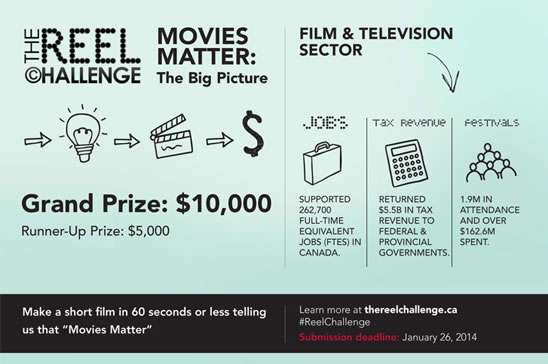 The REEL Challenge:Â  Movies Matter: The Big Picture is your opportunity to show audiences the contribution movies make in our lives.
Movies matter.  Let's look at the big picture. Not only do movies transport us to places of past, present and future – challenging us to see the world as it was or as it could be, and inspiring us to believe in movie magic – but they are the product of the tens of thousands of Canadians who play an integral part in taking a film from a simple idea to your living room or local theatre.
In 2011, the film and television sector supported 262,700 full time equivalent jobs, while contributing over $5 billion to the Canadian economy through production and distribution alone. From special effects studios and soundstages that create jobs, to film festivals that bring in tourists and all of the jobs and people that are supported by the film industry, movies are more than just entertainment.
Now here's your shot to show us that movies matter to you and the many ways in which the industry contributes to the economy in Canada.
Submit your short film of 60 seconds (or less) by Sunday, January 26, 2014 and you'll be eligible for a grand prize of $10,000 or a runner-up prize of $5,000.
Need some inspiration? Check out some of the amazing winning videos from past winners here.
Want a better idea of the rules and regulations? Read the full contest details here.
Looking for some tips and tricks to get your project started? See what some of our past winners have to say here.